Our vast knowledgeable and experienced team are on hand to assist you with ensuring that you meet all the necessary legal requirements for letting your property. Please feel free to come to us with questions and queries.
Landlord legislation includes requirements for:
Blinds
Right to Rent
Furniture and Furnishing (Fire and Safety)
Electrical Equipment and PAT Testing
Electrical Installations
Smoke and Carbon Monoxide Alarms
Central Heating, Boilers & Gas Appliances
EPC
Legionella
Deposits and Tenancy Deposit Protection
Checkout Inspection
Blinds
New European regulations now apply to the installation for raising and lowering blinds and the movement of curtains across windows. This means that new blinds and curtains,  installed by a contractor, will have fixed cords or ball-bearing pulls to prevent any danger of asphyxiation to a young child. A  warning notice will also be supplied.  Existing blinds and windows may need to be fitted with safety features to ensure compliance and to ensure safety. Throughout the agent's period of management, all blinds and curtains will be thoroughly checked during  management visits and, if necessary, arrange for the relevant safety features to be fitted at the landlord's expense. If the agent is not managing the premises at any given period of time, it will be your responsibility to make such checks and arrange the fitting of any necessary safety feature.
Right to rent
From 1 February 2016, all private landlords (and their agents) in England must check that new tenants have the right to be in the UK before renting out their property (Immigration Act 2014). If the Right to Rent check is acceptable, an agent can proceed with the normal full referencing procedure. However,  should a Right to Rent check fail, by law we are  unable to allow a tenancy to commence. We cannot agree a let until the applicant(s) have provided the agent with the correct documents. If a tenant has a time-limited right to remain, landlords and letting agents will need to conduct follow-up checks, normally 12 months from the initial check or at the expiry of the individual's right to be in the UK (whichever is the later).
Right to Rent was introduced in the Immigration Act 2014 as part of the Government's reforms to build a fairer and more effective immigration system.
Furniture & Furnishings (Fire & Safety) Regulations 1988
Any soft furnishings in a let property must comply with the above regulations. Generally, soft furnishings manufactured after March 1990 will comply although they must have the relevant labels.
Any unlabelled furniture is deemed non-compliant (unless it is antique horsehair filled and has not been reupholstered). Letting a property with non-compliant furniture is a serious offence which could lead to prosecution of the landlord and agents.
Electrical equipment and PAT Testing
It is recommended that all portable electrical items are tested before each tenancy. We can arrange for this to be done with a suitably qualified external contractor. The cost will be the landlord's responsibility.
Electrical installations
Electrical installation can be tested before the beginning of the first tenancy. Any works to ensure that the system is safe will need to be carried out. It is, however, not necessary for electrical installations to be tested on an annual basis and we can arrange for them to be re-tested on the recommendations of an electrician. This is normally after 5-10 years.
It is essential that we have test certificates and reports, if you hold them. We can, if required, arrange for an electrician to carry out the necessary tests at the appropriate time. If you would prefer to do this yourself, documentary evidence must be provided to us. Even if you have had an inspection carried out but are unable to supply the certificate, it may be necessary to have the tests carried out again.
Smoke & Carbon Monoxide Alarm (England) Regulations 2015
From the 1 October 2015, landlords have to ensure that a smoke alarm is fitted on every floor of their property where there is a room used, wholly or partly, as living accommodation. They will also have to put a carbon monoxide alarm in any room where solid fuel is burnt, such as wood, coal or biomass and includes open fires. Landlords or agents will then have to ensure that the alarms work at the start of each new tenancy. For example, by pressing the test button until the alarm sounds.
Central heating, boilers and all gas appliances
The Gas Safety Regulations require all gas appliances to be inspected and the landlord (or management agent in the case of managed properties) provided with a Landlord's Gas Safety Certificate on an annual basis. We will normally arrange for these to be carried out. If you make your own arrangements, your property manager will require a valid copy of the Gas Safety Certificate before the first tenancy can commence and then on an annual basis thereafter. If we are not provided with certificates and/or they expire, we will arrange for an immediate inspection. We will not be able to start a tenancy without a valid certificate.
EPCs & Minimum Energy Efficiency Standards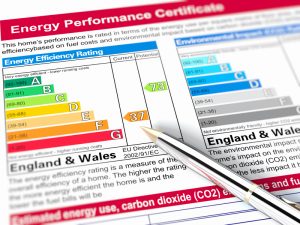 Energy Performance Certificates (EPCs) are needed whenever a property is built, sold or rented and are valid for 10 years. EPCs present the efficiency of dwellings on a scale of A to G. The most efficient homes – which should have the lowest fuel bills – are in band A. The certificate uses the same scale to define the impact a home has on the environment.
Better-rated homes should have less impact through carbon dioxide (CO2) emissions.  Regulations effective from 1st April 2016 state a tenant can apply for consent to carry out energy efficiency improvements in privately rented properties, subject to approval.
From  1st April 2018, there is a requirement for any properties rented out in the private rented sector to normally have a minimum energy performance rating of E on an Energy Performance Certificate (EPC). The regulations are in force for new lets and renewals of tenancies with effect from 1st April 2018 and for all existing tenancies on 1st April 2020. It will be unlawful to rent a property which breaches the requirement for a minimum E rating, unless there is an applicable exemption. A civil penalty of up to £4,000 will be imposed for breaches.
Legionella
All hot and cold-water systems in residential properties are a potential source for Legionella bacteria growth. All landlords and agents in control of private rented properties are now required to protect their tenants against the risk of contracting Legionnaire's Disease. We can arrange the necessary assessments.
Deposits & tenancy deposit protection
The deposit is normally equal to a minimum of £100 more than the month's rent. The purpose of the deposit is to cover damage to the property over and above normal wear and tear and/or any rent arrears or costs incurred as a result of breach of contract.
The 2004 Housing Act prevents landlords from holding unregistered/unprotected deposits. Harrovian Estates is a member of a tenancy deposit service. All deposits relating to Assured Shorthold Tenancies will be dealt with under the rules of the Tenancy Deposit Regulations. Deposits relating to tenancies which are not Assured Shorthold Tenancies are not part of the scheme, although will be dealt with along the principles of the scheme.
Checkout inspection
At the end of each tenancy, we will check the property carefully along with an independent Inventory Clark (fully managed only). We/ you are required to agree deductions between landlord and tenant, and we will do everything we can to reach an agreement. If an agreement cannot be reached the matter will be referred to the relevant body for arbitration. Both the landlord and tenant must accept the decision of the Independent Case Examiner (service included on Full Management only).